If you were an English lord or lady living in the late 19th-century in need of a cook, you'd probably want to hire Mrs Crocombe.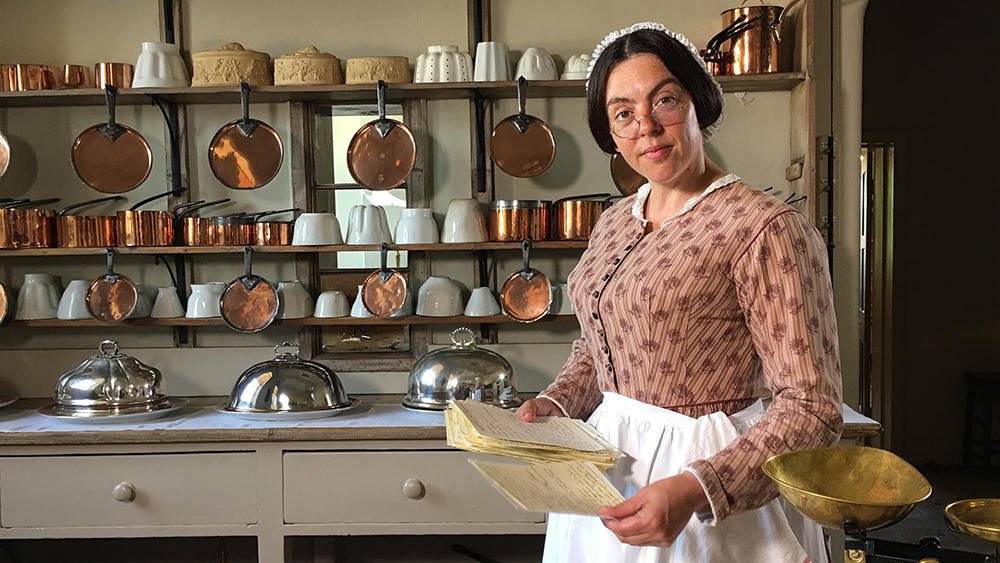 However, we 21-st century avocado toast-chomping and frappucino-sipping viewers can still get a peek into her cookbook via this
Youtube series.
These videos are published under the English Heritage Youtube channel, a foundation that safeguards England's heritage structures, including Stonehedge and
Audley End House
where the Victorian Way series is filmed.
(I feel the need to insert a short personal ramble here. Having been at Cambridge for over three years I have passed Audley End numerous times on train rides to and from London. It has never occurred to me to visit the Audley End House, having heard of it only after I left England for good! Regrets abound.)
See?! I regret my youthful ignorance.
You know that dopamine rush you get when your favourite Youtube channel releases a new video? YES. That is the feeling I get when Mrs Crocombe appears in my feed.
On a fine day, you might just catch Mrs Crocombe writing in her room.
Or picking fruits in the garden.
Her face lights up at the sight of a visitor.
I am, too.
From something as simple as a cup of tea to an intricate cake, Mrs Crocombe is the one you go to for Victorian know-hows. Here are a few of my favourites:
1.
Cucumber ice-cream
Who would have thought cucumber and ice-cream could go together? I didn't.
From hauling a bucketful of ice from the ice-house to manually stirring the ice-cream, it sounds like a lot of work to us modern viewers, especially on a hot summers' day.
But the end result is definitely worth it!
2.
Mrs Crocombe's "Taste of England" food parcel
This episode is basically a collaboration between the English Heritage youtube channel and the Townsends' channel. Mrs Crocombe puts together a delightful package of cake and loose tea leaves for the Townsends on the other side of the ocean.
Here's the catch: The Townsends supposedly lives a century before Mrs Crocombe. But with Youtube's time-travel courier service anything is possible.
Can you please send me a cake too? *puppy eyes*
Double the fun with the Townsends'
companion video
which is a 18th-century equivalent of an unboxing video.
Don't you wish you were the one receiving the parcel from Mrs Crocombe?
3.
How to make breakfast
This particular dish, kedgeree, is a mixed rice dish consisting of flaked fish, vegetables and spices, fried in butter and served with eggs. It resonates with me because we have a similar dish in Malaysia too, which we call 'nasi goreng'. (nasi=rice, goreng=fried)
Unlike the Malaysian version, Mrs Crocombe uses butter to fry the rice and adds cream to it. I might try this version out next time I make fried rice!
(Did I mention how soothing it is to listen to the butter sizzling in the pan? Very ASMR)
With garnishing, this simple meal becomes fit for a lord's table.
4.
Apple hedgehog
The end result is an adorable white thing with a cherry for its nose, raisins for its eyes and hazelnut flakes for its spines.
What's not to love about this dish?
Everything else to love about this video series:
-The background music
-The actress playing Mrs Crocombe
-The shiny copper pots and pans hanging in the background
My dream kitchen


-Everything else down to Mrs Crocombe's accent, the simple plots that go with the videos, and her simple look of surprise and 'oh, hello there!' as the camera pans onto her.
The channel also runs a series of videos on the real Mrs Crocombe. She rose in the ranks to become the head cook in a time when male cooks were more widely sought after and received better paid than their female counterparts. [0:40-1:00 in the third video]
To quote historian Dr Anne Gray in the third video,
"To me it is impossible to think about studying the history of women without looking in-depth at servant life. Avis Crocombe and the other cooks like her who reached the pinnacle of their profession in a time when it was unthinkable to get any further, are incredibly important figures to consider and to look at. They're people that fought the gender battle in their own way. They didn't put on sashes and go out on the streets or throw themselves under horses, but in their own way they nevertheless fought for women to be recognised as professionals doing a professional job in an incredibly male-dominated profession."
For more videos on historical food and dining habits (mostly British), I'd recommend The Supersizers series. Each episode is for an hour or so and is an enjoyable and light-hearted take on the eating habits of a specific historical period, going as far back as Ancient Rome to as recent as the seventies. Some of the videos are on Youtube.
I'd also recommend Future Learn's
"A History of Royal Food and Feasting"
. Did not manage to complete the course myself, but it was fun to see other dedicated and talented learners share their recreations of historical dishes.
For information on the actual working conditions of domestic servants, watch the
Life Below Stairs
series. The tone of the videos is pretty depressing, but I picked up a couple of interesting facts along the way.
For a more comprehensive account on Victorian domestic life in general, Judith Flanders'
"The Making of Home"
,
"Inside the Victorian Home"
and
"The Victorian House"
are good reads.